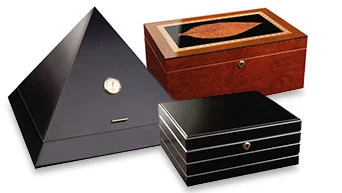 How to decide which humidor is right for you?
1) Capacity: The cigar capacity you will need depends on your consumption, how frequently you like to restock and whether or not you plan to age your cigars. The cigar humidor calculator will tell you exactly how many cigars will fit inside.
2) Hygrometer: Many hygrometers use a metal spring mechanism. However, hygrometers that use a hair mechanism are more accurate and can be found in some premium humidors. Generally, both a hygrometer and a humidifier are included with the humidor.
3) Humidifier: The humidifier needs to be the right size for the humidor. Acrylic polymers can store much more water than traditional sponge based humidifiers. Micro-processor controlled electronic humidifiers are without question the best choice.
4) Humidor case: The best humidors must be solidly built. The thicker the walls, the better the humidor will isolate the internal humidity, meaning the humidor will work better, longer. The inside should be lined with a wood that is highly absorbent, ideally Spanish cedar. A well-made humidor will last a life-time. It is a sensible investment in order to look after your precious cigars.
Additional
shipping costs
apply. Strikeout prices are suggested retail prices.