Hotline
1 (574)-607-4008
/
(800) 613-6219
|
Contact
FREE
U.S. Shipping (orders over $180)
100 DAY
Return Guaranteed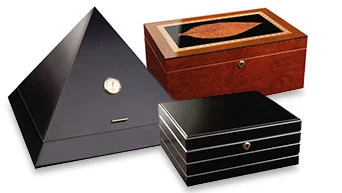 There is nothing as so gratifying as selecting a properly maintained, perfectly humidified cigar from your very own cigar humidor. Quality is the key to optimal cigar storage. HumidorDiscount is here to help you find a humidor that will provide you with years of cigar smoking bliss.

What is a Humidor?
A humidor, simply put, is a self-contained space that provides tobacco with a humidity controlled environment. A humidification device keeps the interior of the humidor at about 65 to 72 percent relative humidity, the optimal range for cigars. A high-quality humidor offers reliability, style and overall peace of mind that lets you better enjoy the cigar smoking experience.

Today's cigar humidors offer much more refined options for the modern cigar aficionado, with high-quality materials such as wood, metal, glass, acrylic and even carbon fiber. A well-crafted humidor ensures relative humidity will be maintained with the greatest of efficiency. Your cigars will be kept safely in the ideal climate so you can enjoy a great smoke each and every time.

Types of Humidors
Every cigar aficionado or cigar purveyor has different needs and wants, and so there are countless varieties of humidor types from which to choose. As you browse through HumidorDiscount's collection of humidors, consider which type will work best for you.

Desktop
Desktop models are the most common type of humidor. They offer incredible versatility with an endless range of sizes and styles and are ideally suited for veteran connoisseurs, everyday cigar lovers and casual enthusiasts alike. Whether for home or the office, a desktop humidor can add a touch of elegance to the décor while keeping your cigars within easy reach. Glass-top humidors are great for displaying your cigar collection. If you want to really show off your treasured cigars, check out adorini's crowd-pleasing Cube Deluxe Humidor.

Desktop humidors can range in capacity from as little as five cigars up to 300 or more, yet most will hold an average of 25 to 150 cigars. You'll find some great examples within Adorini's line-up of exquisite humidors that display the broad range of cigar storage options.

Travel
Just because you are on the go, doesn't mean you have to be without properly humidified cigars. Travel humidors give you the flexibility to keep your cigars in the optimal environment no matter where your travels take you. Travel humidors can range from small, humidified cigar cases to larger, handsome models that can even serve as desktop humidors.

Cabinet
Dressed to impress, these humidors are the obvious choice of serious collectors, as humidor cabinets generally offer more space for cigars, as well as highly sophisticated styles. The larger, floor-standing or wall-mounted cabinets are most common in retail settings, with their higher capacity and greater display options. Many humidor cabinets also include electronic humidification systems and other options to improve efficiency of climate control.

Walk-In
As the name implies, these are humidified areas that you can physically enter. Most commonly used by retail cigar shops and only the most serious cigar connoisseurs, a walk-in humidor can be as small as a broom closet to as large and encompassing as an entire storefront. As long as the area is enclosed and consistently humidified, it can be a walk-in humidor. Costly to maintain, walk-in humidors need far more robust humidification systems, not to mention more water and power. So, they are not ideal for the casual cigar enthusiast.

Choosing the Right Humidor
Once you have narrowed down the type of humidor you want, you can focus on the specifics of the humidor to best fit your needs. Setting a few parameters before you begin your search will make choosing a humidor a smoother and more successful endeavor.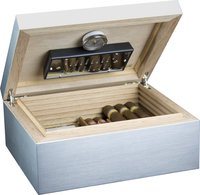 Size
Will the humidor fit the area you intend to place it? Think of a humidor as a small piece of furniture and consider its placement in a room accordingly. Measure the area and compare it with sizes available on each humidor's page.

Capacity
How many cigars will you need to store? This can be tricky as it all depends on your level of cigar consumption, how often you rotate cigars and if you need space for extended aging of cigars. If you're not sure and available space permitting, always go a little bigger than you think you might need. Check out HumidorDiscount's humidor calculator tool for a better idea of each humidor's capacity.

Style
Will the humidor suit the décor? Should it have a traditional or modern look? Will it be used for displaying cigars? Does it need a lock and key set? You will most likely see the humidor every day, so you want it to be a pleasing addition to the room and not a distraction. From understated and functional to an eye-catching centerpiece, you are sure to find a style that fits.

Budget
Just like any other investment, a cigar humidor is one you want to consider carefully to ensure it fulfills your needs. Costs of updating inferior humidification systems can be substantial and so too can recouping the loss of improperly humidified cigars. So, have a budget plan to avoid these frustrations down the road. There are humidors in almost every price category from basic starter humidors to adorini's stunning, one-of-a-kind Tresor Cassaforte Humidor Safe..

Beyond these considerations, you can get down to the nitty-gritty of the interior functionality of the humidor. Having a robust line-up of features at the very heart of your humidor means your cigars will be better preserved and protected, making for a much happier cigar smoking experience.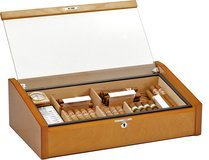 Humidification
This is critical to the proper function of any humidor. Most humidors include a humidification device, but you want to be sure the humidifier will offer optimal performance. Acrylic polymer fleece is a favorite humidifying material that can store more water than traditional sponge-based humidifiers. Microprocessor controlled electronic humidifiers are the best choice, hands down. You can always add-on or upgrade a humidifier if needed, no matter the type of humidification required.

Lining
The interior lining of a humidor can help the aging process of cigars and also better maintain consistent humidity. Humidors lined with moisture-absorbing Spanish cedar are preferred. Yet, mahogany and okume are also effective options found in many premium quality humidors. Glass or acrylic humidors may not have a lining, so the addition of cedar trays or partitions is recommended.

Build Quality
Think of a humidor as an heirloom that should last a lifetime. A humidor's efficiency is directly related to the quality of craftsmanship, so look for a humidor that has thick walls and a sturdy corpus design. Adorini's Santiago Deluxe humidor is a great example. The enhanced strength means that the humidor can better isolate the internal humidity, delivering a more efficient and longer-lasting cigar storage solution.

Hinges
An often-overlooked aspect of a humidor, quality hinges can offer greater longevity, smoother opening/closing action, and a better sealing lid. Heavy-duty quadrant hinges are the favorite choice of humidor makers and cigar aficionados for the high level of durability and style the hinges offer.

Hygrometers
While not necessary to humidify cigars, hygrometers make it much easier to keep track of humidity levels and ensure cigars are kept in ideal conditions. Many humidors come with a hygrometer, but often these are less accurate metal spring hygrometers. Highly accurate precision hair hygrometers and easy-to-read digital hygrometers are popular options that can give you greater peace of mind. Some even feature an integrated thermometer. You can browse through HumidorDiscount's hygrometers and thermometers to find the type and size right for your humidor.

Interior Enhancements
This includes a variety of options that can help improve a humidor's overall performance. Ventilation openings and ribbed interior walls, for example, improve circulation to ensure each of your cigars is better exposed to the humidity needed to keep them in optimal condition. Other useful additions, such as cedar dividers and trays, can also help improve cigar organization while optimizing humidity control.

Humidor Hunting Made Easy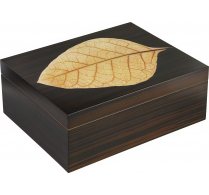 Armed with these tips, you are ready to find a cigar humidor that will provide a long-lasting home ideally suited for your treasured cigars.
All prices include already VAT. Free US shipping from $180. For order value under $180 additional
shipping costs
apply. Strikeout prices are suggested retail prices.