Hotline
1 (574)-607-4008
/
(800) 613-6219
|
Contact
FREE
U.S. Shipping (orders over $180)
100 DAY
Return Guaranteed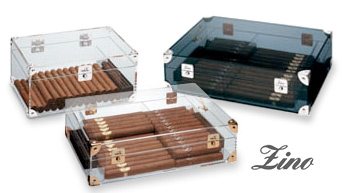 Zino Davidoff

Zino Davidoff is a name that is synonymous with quality and luxury, renowned as one of the cigar world's most prestigious brands. From exotic woods to sophisticated acrylic designs, Zino Davidoff humidors beautifully blend the traditional with the modern for a richly pleasing look and functionality. What truly distinguishes Zino Davidoff cigar humidors from others is that each is infused with the unmistakable character and passion of Zino Davidoff the man.

The Zino Davidoff Story
Zino Davidoff was born in the Ukrainian capital of Kiev in 1906 to a family with deep roots in tobacco sales. With a changing political climate, the family immigrated to Switzerland in 1911 and settled in Geneva. Here the family opened a new tobacco shop that would forever change the cigar industry: Davidoff of Geneva.

Under the guidance of Zino's father, Henri Davidoff, the family's shop quickly became a popular destination for cigar aficionados. As Zino grew into the business, he traveled the world searching for the finest tobacco and developed a passion for the business and the relationships it brought. Whether meeting tobacco growers, factory workers or cigar lovers, it was a love affair that endured throughout Zino's lifetime and still is at the heart of the brand that bears his name today.


Over the years, Zino would be front and center for innovations that would keep Davidoff at the forefront of the cigar industry for years to come. Under Zino's guidance in 1930, the family's shop installed the world's first climate-controlled room for storing tobacco. As the storms of war gathered over France in 1940, Zino Davidoff agreed to French requests to store two million Cuban cigars. This served to bolster Zino's legendary status as the leading cigar purveyor in Europe.

Zino would spawn another innovation in the 1950s that would revolutionize the cigar world. Davidoff had long wanted cigar aficionados to experience cigars as he had during his travels throughout Latin America's tobacco-growing regions. Davidoff set out to create a cigar storage box that would recreate the humid climates of the tropics. This inspiration was the birth of the modern humidor as we know it today.


The Zino Davidoff legend only grew in the 1960s with the publication of the "The Connoisseur's Book of the Cigar." The decade also saw the emergence of the Davidoff brand of Cuban-made cigars. Further global growth throughout the 1970s and 1980s included expansion into the US market with non-Cuban cigars. By the time Davidoff ceased production in Cuba in 1991, it was one of the premier names in cigars, humidors, and luxury accessories. A title Davidoff can still claim today.

Zino's legacy is built upon innovation and passion for the industry, yet Zino Davidoff is perhaps best remembered as the world's leading ambassador of cigars. He joyously shared his love of the cigar-smoking ritual and its ability to bring people of all walks of life together. This was his greatest gift to cigar smokers. While he is no longer with us, Zino's legacy lives on with each Zino Davidoff humidor.

Davidoff Humidors
The Davidoff of Geneva line-up features a collection of luxury humidors that combine traditional designs with equal touches of elegance and sophistication. Humidors in the Zino line offer a distinctive contemporary character popular with connoisseurs wanting a splash of modern flair.


Whether wearing the Zino Davidoff or Davidoff of Geneva badge, you can rest assured every humidor is of the utmost quality in design and construction as Zino himself would have wanted. No matter your taste or your décor, you are sure to find a beautiful Davidoff humidor just right for the job.

Davidoff of Geneva Collection
The humidors found in this line are the very pinnacle of luxury humidor design, featuring exotic wood veneers and opulent embellishments. These humidors are for the discerning cigar connoisseur who values class and quality above all else. A few considerations will help you decide if Davidoff of Geneva humidors are right for you.

Each humidor provides:

A striking yet elegant look ideally suited as a centerpiece for any room or office

Richly crafted adornments of the highest quality materials and precious metals

A precision finished look, both inside and out

Reliable passive humidification without the need of a hygrometer

Heirloom-quality construction for lasting durability

A premier example from the Davidoff of Geneva humidor line is the luxurious Dome Palisander Palladium humidor. A rounded dome shape, exotic palisander wood veneer, African okoume interior, and palladium-coated handles and hinges make this stunning humidor a best-selling favorite.


A pullout tray and dividers provide a perfect way to organize up to 65 of your most treasured cigars. A magnetic mount on the lid's underside provides a place to keep your favorite Davidoff cigar cutter. Davidoff's self-regulating humidifier keeps cigars in optimal condition. Use only distilled water and a cigar solution such as adorini's cigar humidification liquid, to ensure the absolute best environment for your cigars.

Zino Collection
Zino humidors deliver a distinctive contemporary look that has helped make these humidors favorites of cigar enthusiasts worldwide. Humidors from this collection are great options for all. Each humidor delivers the superb craftsmanship cigar lovers expect from Davidoff, as well as:

High-quality humidification

Combination of elegance and value

Eye-catching modern styling

The Zino collection offers a range of humidors that bring a touch of sophistication and modernity to any cigar space. Within the collection, you will find wood humidors with eye-catching lacquer finishes, humidors with engraved designs, and sleek acrylic humidors that let you show off your prized cigars.

The best-selling Zino Acrylic Transparent humidor is a perfect example of the Zino collection's offerings for the modern cigar aficionado.


The high-grade acrylic construction provides a durable home for 40 to 60 Corona-size cigars while keeping them visible through the transparent walls. A tastefully placed hinge and magnetic closure work with a self-regulating Zino humidifier to deliver optimal humidity control.
For those that prefer a traditional wood humidor but want a touch of added flair, the Zino Leaf humidor is a popular option.


This Zino classic features an engraved tobacco leaf on top of the lid for a unique look that shows off your love of tobacco. Inside you'll find an elegantly understated interior ideal for up to 60 cigars. African okoume provides a welcoming home for your cigars, which can be organized with the included dividers. A Zino self-regulating humidifier does the rest, ensuring that your cigars are always ready for action. The most popular Zino Leaf designs are available in Black, Natural Oak and Grey Oak.

These are just a few of the beautifully designed humidors from Zino Davidoff. There are opulent and highly sophisticated humidors of various styles, sizes and finishes just waiting to be discovered to suit almost any decor.

Join the Zino Davidoff Legacy

Whether from the luxurious Davidoff of Geneva line or the trendsetting Zino series, a Zino Davidoff humidor brings class and elegance to your cigar experience. Join the exclusive club of cigar lovers dedicated to the cigar lifestyle and find your Zino Davidoff humidor today!
All prices include already VAT. Free US shipping from $180. For order value under $180 additional
shipping costs
apply. Strikeout prices are suggested retail prices.