Hotline
1 (574)-607-4008
/
(800) 613-6219
|
Contact
FREE
U.S. Shipping (orders over $180)
100 DAY
Return Guaranteed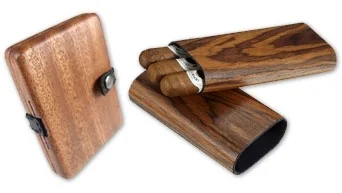 Cigar cases come in many forms, yet some of the most alluring types are wooden cigar cases. Discerning aficionados around the globe turn to wooden cigar cases for a style that only wood can offer. Not only does wood impart a stunning look and feel, but wood can also bring several benefits to your cigar experience.


Why Wood?

While perhaps not as well-known to everyday cigar enthusiasts as leather cases, wooden cases offer tremendous style and sophistication that matches or even exceeds many other types of cigar cases. Also, no two wooden cigar cases are alike, with each having a unique grain pattern. This guarantees your wooden cigar case is a true, one-of-a-kind creation.

Pleasing to the eye and highly functional, wooden cigar cases provide an alternative to soft leather and hard metal cases. With various styles available, wooden cigar cases can offer advantages over other cases, including:

Durable rigid design

Secure cigar storage space

Enhanced aroma

Distinctive appearance and feel

Wooden cigar cases are more difficult to create, so they are not nearly as prevalent as cigar cases made of other materials. Yet a quality wooden case offers greater flexibility in how you transport cigars, as well as peace of mind your cigars won't be crushed along the way.

Some wooden cases featuring Spanish cedar can add a pleasing aroma to cigars. The wood also can help maintain humidity by adding a small humidifier to the case to keep cigars in optimal condition while you are on the go. Dividers, magnetic closures, or protective cloth sleeves are other features that a wooden cigar case might include to improve your cigar adventures.

Types of Wooden Cigar Cases

There are different types of wooden cases from which to choose, depending on your preferred style and needs.

Solid Wood
All-wood cases provide a solid, protective home for cigars while providing a pleasing look that can range from rustic to elegant and sophisticated. Most of these cases highlight unique grain patterns, which add a touch of flair to each cigar case. Wood exteriors can show scuffs and dings over time, so a protective cloth sleeve is recommended to ensure the case's exterior remains in pristine condition during travel.

Mixed Media
These cases feature a combination of wood and other materials. Leather-wrapped wooden cigar cases are popular options, such as adorini's luxurious Adaptable Genuine Leather Cigar Case Black 2/3. Supple leather sides and beautifully grained end caps make for a striking look that adds a touch of distinction to your cigar travels.

Wood Lined
Cigar cases of any type of exterior material can feature a wood-lined interior, from stylish leather cases to rugged ABS plastic options, such as the Angelo Triple Cigar Case Black. The wood lining helps provide more protective storage space for your cigars while maintaining the exterior material's look and feel.

Choosing a Wooden Cigar Case

Consider a few points before making a purchase so you can better decide which type of wooden cigar case is best for you:

Mode of transport
How will you carry the cigar case? Consider if you might carry the cigar in a coat pocket, a briefcase, or bag. Smaller cases are ideal for pockets, while larger cases can be stowed safely in luggage for extended traveling.

Cigar Size
What size of cigar might you be carrying most often? Many wooden cigar cases are crafted to accommodate various lengths and ring gauges. Just be sure the case you are considering has adequate space for your preferred smokes. If you like to smoke various sizes of cigar, then choosing a case at the larger end of the spectrum is best.


Number of cigars
How many cigars do you want to carry? The more cigars you carry, the bulkier the case will be, so think about how you plan to transport the cigars. A case for two or three cigars, for example, is a much more manageable size to carry in a coat pocket.

Type of Travel
Where do you plan to take your cigars? Solid wood cigar cases provide great overall protection for your cigars during a broad range of occasions. Yet, these may not always fit your circumstances. For more rugged outdoor use, while camping or hiking, for example, wood-lined ABS-plastic cases might be the best fit. In comparison, leather-wrapped wooden cases provide more pizazz for those nights on the town.

The Natural Choice

Wooden cigar cases are rewarding options that will elevate any cigar smoking journey. The limited availability of material and the more demanding manufacturing methods used for wooden cigar cases are most assuredly part of their appeal. This wholly unique character and reliability make wooden cigar cases the natural complement to cigars.
All prices include already VAT. Free US shipping from $180. For order value under $180 additional
shipping costs
apply. Strikeout prices are suggested retail prices.