Hotline
1 (574)-607-4008
/
(800) 613-6219
|
Contact
FREE
U.S. Shipping (orders over $180)
100 DAY
Return Guaranteed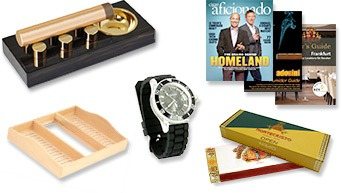 The world of cigars is so much more than just cigars, humidors, and lighters. There is a wide spectrum of other cigar accessories that will serve to enhance your overall cigar smoking experience. These accessories can give you more sophisticated ways to light your cigars and organize your humidor, as well as broaden your cigar knowledge and even add a cigar-inspired flair to your décor.

Cigar Media
HumidorDiscount is committed to providing you with all the knowledge you need to enjoy the World of cigars fully and so offers a great variety of cigar-related books, magazines, and DVDs. You can brush up on your cigar history with a selection of books, catch up on the latest cigar ratings with popular cigar magazines and learn more about humidor care from adorini's Humidor Guide.

Dividers and Trays
HumidorDiscount offers a broad range of accessories meant to improve the efficiency of your humidor, giving you added flexibility to create an ideal home for your prized cigar collection.


Add greater versatility in organizing your humidor with the addition of a tray to create a separate storage level for your cigars. Optimized trays, such as adorini's medium-size cedar tray, can even improve airflow to ensure your cigars get all the humidity they need. Dividers and divider clips are other popular options that work with humidors with ribbed interiors, such as those featuring adorini's RibTech, which will help keep cigars separated and better organized. You can also shine a light on your cigars with the RibTech-compatible adorini LED Humidor Light.

Cigar Ashtrays
So, what is different about a cigar ashtray? Cigar ashtrays typically have wider or deeper bowls to allow more room for a cigar's ample ash. A cigar ashtray will also generally feature cigar rests that will accommodate a wide range of cigar sizes, so you can safely set down your cigar during your cigar smoking escape.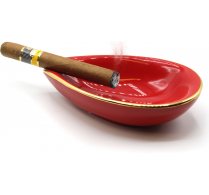 You'll find a great collection of cigar ashtrays at HumidorDiscount for every occasion, from elegant porcelain and glass ashtrays to everyday designs perfectly suited for indoor and out. Enjoy your cigars on the go? No problem. There are portable cigar ashtrays from which to choose. There are even floor-standing ashtrays, such as adorini's Standing Ashtray, ideal for cigar-friendly gatherings or retail settings.

Other Accessories
You will find plenty of other accessories on HumidorDiscount that can take your cigar game to a whole new level. High-quality cigar matches, golf tools, cigar-art to enhance your cigar smoking space, leather cases for your cigar cutter and even adorini's HumiSave bags to keep your cigars humidified while on the go, are just a few of the many exciting offerings you'll find at HumidorDiscount.

Flasks
Good cigars and fine spirits go hand in hand, so there is no better way to enjoy your favorite cigar and drink pairings than with a high-quality drinking flask. A flask lets you savor your favorite cigar-pairing liquors at home, on the golf course, camping or somewhere in between.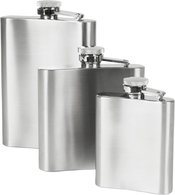 You don't want to go without a tasty beverage while enjoying your smokes, so check out HumidorDiscount's flask collection to find the right flask for you.

Tools for a more satisfying smoke
You have everything you need right at your fingertips to enjoy your cigars better, so browse through HumidorDiscount's other cigar accessories to find these and many other ways of bringing more gratification to your cigar smoking adventures!
All prices include already VAT. Free US shipping from $180. For order value under $180 additional
shipping costs
apply. Strikeout prices are suggested retail prices.