Hotline
1 (574)-607-4008
/
(800) 613-6219
|
Contact
FREE
U.S. Shipping (orders over $180)
100 DAY
Return Guaranteed
The proper care of your cigars is critical to the full enjoyment of the cigar experience, so you should not settle for humidors that are merely adequate. Enter VillaSpa. VillaSpa humidors take cigar humidification to the next level, empowering you to store, organize and preserve your cigars with the greatest confidence. It is like having a spa for your cigars.


Excellence in Cigar Storage
When VillaSpa founder Kurt Steinborn returned from a business trip during the 1990s to cigars that had been improperly maintained, he gathered his friends, and they set about creating a solution to the problem that has plagued so many cigar enthusiasts: Over or under humidified cigars.

Steinborn and his team developed an innovative humidifier that would make cigar humidification easier, more efficient, and much more reliable. He unveiled his game-changing invention in 2003 and dubbed it the CigarSpa electronic humidification system. Steinborn, however, was underwhelmed by the quality of humidors available on the market. He decided his humidifier needed a proper humidor to show off its true potential.

Steinborn joined forces with humidor and accessory maker Siglo to create a humidor that was equal to the task of providing a worthy home for the CigarSpa electronic humidifier. So it was that VillaSpa humidors were born. The finely crafted offerings have since developed a reputation for delivering exceptional humidification along with their beautifully understated designs.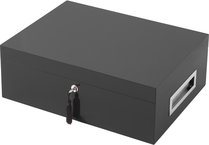 Each VillaSpa humidor offers an alluring look and feel with a variety of finishes perfect for any home or office. From the classic black or white finishes to more vibrant colors such as yellow, red, or purple, you are sure to find the right look for your décor.

VillaSpa humidors are created for the serious cigar connoisseur and provide the best options for those who want:

Highest-quality humidity control

Space for more than 200 cigars

Versatility in organizing cigars

Highly durable build-quality

A blend of traditional and modern design

While not among the most budget-friendly options on the market, VillaSpa humidors prove their worth with outstanding overall performance every day. The proof is in the finer details of each humidor's design and construction.

The VillaSpa Humidor
Each humidor features a super-strong corpus design of MDF (medium-density fiberboard). Denser than standard plywood, MDF features layers of heat-treated wood fibers combined with wax and adhesive materials. This rock-solid core is less likely to expand and contract as natural wood often does, making for an optimal choice for crafting humidors.



This intricately crafted material also allows for a more desirable surface devoid of knots that occur with natural wood, making MDF a perfect choice for applying veneers. The veneers are expertly assembled by artisans at the peak of their abilities. The veneers create sleek, eye-catching exteriors, as well as interiors ideally suited for the preservation of cigars.

The interior veneers of all VillaSpa humidors are of okoume, an exotic wood that is a favorite choice of connoisseurs. The wood offers a high moisture absorption rate, which helps maintain consistent humidity control. Okoume also gives off very little odor, so the aroma of the cigars will not be affected by the wood, as happens with other woods such as Spanish cedar.

VillaSpa humidors offer other design elements that make each creation a cigar lover's dream. Extra-large handles let you get a good grip, making it easier and more convenient to move the humidor. Heavy-duty quadrant hinges provide stability and help to ensure the lid opens and closes with the greatest of ease.



Two different levels of storage space give you the flexibility to organize your cigars more efficiently. The upper level features two movable trays that are ventilated for improved air circulation. The lower level features plenty of space for cigars, and the included CigarSpa humidification device.

The Heart and Soul of VillaSpa
At the very root of every VillaSpa humidor's success is the CigarSpa electronic humidifier. This unique device makes humidifying cigars easy, reliable, and hassle-free. The exceptional design and construction of this German-made device set a new standard for humidifiers, giving you the peace of mind that your cigars will always be in optimal condition.



The CigarSpa operates through a sophisticated soft evaporation membrane system that provides humidification slowly and constantly, so cigars easily adapt to any changes in the environment. The unique design of the membranes means the unit needs to be filled with distilled water only every 4 to 6 months or so. Precision-built, specifically for maintaining 50 to 500 cigars, the CigarSpa is the perfect complement to the VillaSpa humidor.

A powerful onboard microprocessor allows you to adjust humidity levels with just one button. You can fine-tune humidification between 55% and 75% to find your preferred level. You can also keep track of current conditions, average humidity levels and average temperature thanks to a digital display panel.

Whereas many electronic humidifiers cause frustration due to annoying cords that run to external outlets, the CigarSpa features a long-lasting battery that can function up to three years on one charge. No more fussing with cords or trying to position your humidor near an electrical outlet. The onboard display will even alert you when the battery is getting low and when it is time to add water.

With up-to-date components, the CigarSpa makes humidifying cigars easier and more efficient than ever before. With this powerful humidification system at its heart, a VillaSpa humidor emerges as one of the best all-around cigar humidors available today. If you want your cigars to be kept in the very best condition, then the VillaSpa cigar humidor with CigarSpa humidifier is an easy choice.

The Home Your Cigars Deserve
The alluring look, expert construction, and reliable humidity control of the easy-to-maintain VillaSpa humidors make them winning options that you can rely upon, day in and day out. VillaSpa humidors deliver so much more than just humidified storage space. Powered by the innovative CigarSpa humidifier, VillaSpa humidors provide, as Steinborn and his team proclaim, "wellness for cigars." Give your cigars the care they deserve and with a VillaSpa humidor.
All prices include already VAT. Free US shipping from $180. For order value under $180 additional
shipping costs
apply. Strikeout prices are suggested retail prices.