Hotline
1 (574)-607-4008
/
(800) 613-6219
|
Contact
FREE
U.S. Shipping (orders over $180)
100 DAY
Return Guaranteed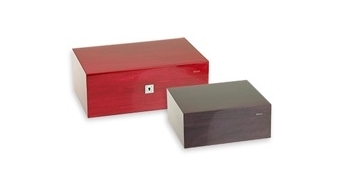 Since 2003, Siglo Accessory humidors have delighted cigar lovers with beautifully crafted creations that are all at once stylish, well-made, efficient, and bold. From classic designs to wildly unique artistic creations bursting with color, Siglo's humidors aim to please even the most discerning of aficionados, becoming a favorite of Cuban cigar connoisseurs around the world.

The Cuban Connection
The Siglo Accessory brand was launched in 2003 by Pacific Cigar Company Limited (PCC), a Hong Kong-based entity. Founded in the 1990s, PCC quickly established prestige as the sole authorized distributor of Cuban cigars for the Asia-Pacific region. This exclusive partnership with Cuba's Habanos SA allows PCC, and its Siglo accessories, a unique place in the world of cigars.


With ties to Cuba's most famous cigars, Siglo Accessory has spawned a variety of Cuban-inspired humidors and accessories which have propelled Siglo's popularity amongst cigar connoisseurs everywhere. The brand maintains its esteemed position thanks to a commitment to core principles.

The Siglo Way
The team of designers and artisans behind every Siglo product are passionate about their craft and what each creation brings to the cigar lover's experience. So, what makes Siglo exceptional? The answer is found in the brand's guiding philosophy of combining:

Sleek design

Contemporary style

High-quality materials

Impeccable craftsmanship

Overall value

Designed by the best and brightest Hong Kong has to offer, Siglo products are crafted by artisans from around the world using materials collected throughout Asia, South America, and Europe. The result is a catalog of impressively designed and beautifully aesthetic creations ideal for any cigar enthusiast's home or office.

Selecting a Siglo Humidor
There is no other collection of humidors on the market today that offer the look and feel of a Siglo humidor. Vibrant, uniquely designed, and crowd-pleasing to the last, every Siglo humidor is a centerpiece sure to get a smile from whoever enters the room.

As you set out on your quest to find the perfect Siglo humidor, you will want to consider a few points that will help to narrow your focus.

Size

As with any humidor, you want to ensure the size not only matches where you want to place it yet also the number of cigars you wish to humidify. Siglo makes it easy with three basic sizes of desktop humidor from which to choose.

Small (S) This popular size provides space for up to 50 cigars, delivering a great overall choice for those short on space yet wanting a well-maintained stock of cigars. A great entry into the Siglo universe.

Medium (M) This size is an aficionado favorite and a great option if you want to expand your cigar collection to as many as 75 Corona-size cigars. A size that offers the most variety of options in the Siglo line-up

Large (L) With capacity for up to 100 cigars, this option gives you more space for cigars yet is not nearly as compact, taking up more space in your room or office.

Extra Large (XL) Only for the most serious of cigar collectors, this uncommonly large size accommodates up to 200 Corona-size cigars. This size is generally only produced in limited releases.

Siglo offers other sizes, of course, including a 10-cigar travel humidor and humidors that hold over 300 cigars. Yet, the main focus continues to be on the Small and Medium range, which are the preferred sizes for many cigar enthusiasts throughout the world.

Style

Perhaps the most difficult choice in selecting a Siglo humidor is the style or look of the humidor. Siglo offers such a wide variety of eye-catching finishes for every conceivable décor. Siglo humidors first catch your attention with their beautiful high-gloss piano finishes.

Artisans go through a thorough process of hand-applying a minimum of 15 layers of lacquer to achieve that brilliant glossy look. Combine this process with a series of bright colors and exotic veneers, and the results are truly stunning.

Vibrant Series
As the name implies, the Vibrant series features a collection of vivid colors that are sure to brighten any room. Red and yellow are amongst the most popular options, closely matching the color schemes of famous Cuban cigar brands. Blue, grey, white, and even purple are also great options that add a splash of color to your cigar smoking experience.

Chinese Zodiac Series
Celebrate the Chinese New Year or flaunt your own animal sign with this collection of beautifully rendered artistic creations. Each humidor features a stylized image of a Chinese Zodiac symbol. Perhaps the best example is the exquisite Year of the Goat humidor, featuring a high-gloss black finish with alluring Chinese patterns and calligraphy of red lacquer.

Classic Series
While Siglo has built a reputation for creating bold and vibrant designs, the brand also offers a collection of humidors for those with more traditional leanings. These humidors feature exotic woods, such as macassar and ebony, with beautifully flowing grain patterns.

Biometrico Series
Further adding value and security to Siglo's expertly crafted creations is the Biometrico series. The unique design of this locking humidor allows you to keep your cigars safely locked away without the hassle of keeping track of a key. A simple touch of the fingerprint reader conveniently located on the front of the humidor unlocks the humidor. The ultimate choice for enjoying your cigars, worry and hassle-free.

No matter the style, each Siglo humidor delivers Siglo's trademark blend of quality, function, and style. Siglo's other offerings, such as the Geometry series, Cohiba-inspired series, and Limited-Edition series, give cigar lovers a broad selection of fantastic humidors from which to choose, like the legendary Koi Fish humidor with its striking inlaid design.



Features


While the size and style of the humidor are important, ultimately, the deciding factor should be the features to be found on the inside, the functioning heart of the humidor. Siglo humidors offer a plethora of features that provide safety and longevity while delivering reliable humidity control. Some of these features include:

Spanish cedar lining

Heavy-duty quadrant hinges

Siglo Humidifier

Siglo digital hygrometer

Divider(s)

Depending on the size and style of the humidor, other features may add to the already robust functionality and versatility of each Siglo humidor. The now-legendarySiglo Cards humidor, for example, easily converts into the ideal home for your poker chips and playing cards. You name it, and Siglo humidors will deliver.

Siglo Pride
Siglo humidors have garnered the respect and admiration of cigar connoisseurs around the world simply by remaining committed to offering products that feature exceptional design and style, solid construction, and trust-worthy humidification. A Siglo humidor is one you can be truly proud to own.
All prices include already VAT. Free US shipping from $180. For order value under $180 additional
shipping costs
apply. Strikeout prices are suggested retail prices.