Hotline
1 (574)-607-4008
/
(800) 613-6219
|
Contact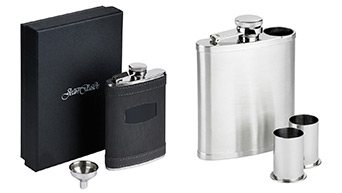 There is no better way to enjoy a good cigar than with an equally tasty libation. You can conveniently enjoy your favorite drink no matter where your cigar travels take you with a quality drinking flask. And with the large selection available today, you are sure to find the right flask for the job.




Selecting a Flask

Flasks come in different types and sizes, so consider what might work best for you. Think about the size and capacity of the flask: Does it need to hold a little taste of goodness or a lot? Do you like to share? Will you be carrying it in a pocket, a briefcase, a golf bag? These are just some of the considerations you might make.

The most popular flasks available today are hip flasks. These flasks are quite flat and usually slightly curved, better to fit a body's contours. Hip flasks are designed to be kept unobtrusively in a jacket or trouser pocket and are available in various sizes and finishes. They are ideal for special occasions, camping, or even out on the golf course. The Stainless Steel Flask 180mL is a great all-around option.

If you might be sharing with others, then a portable shot glass set is essential. Sets such as the Shot Glass Set in Leather Case provide four full-sized shot glasses that stow inside a convenient carry case. You'll be able to spread the good cheer whenever the moment arises.


Raise Your Flask High

A high-quality flask lets you enjoy your drink of choice with a vintage élan. Treat yourself to a satisfying pairing of cigar and fine distillable by preparing now to toast your next key moment from a drinking flask.
Additional
shipping costs
apply. Strikeout prices are suggested retail prices.