Hotline
1 (574)-607-4008
/
(800) 613-6219
|
Contact
FREE
U.S. Shipping (orders over $180)
100 DAY
Return Guaranteed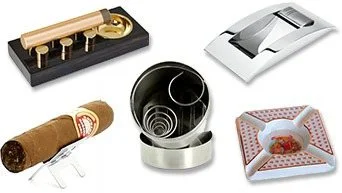 Beautify your smoking space while providing a convenient and safe place to rest your cigars with just the right cigar ashtray. Whether you need a simple ashtray for the backyard, something portable while on the go, or an ashtray that adds a touch of elegance to your cigar smoking area, there is one out there for you.



How does a cigar ashtray differ from a regular ashtray?

While the basic function of all ashtrays is to provide a safe place to dispose of ash, cigar ashtrays offer a few added features to facilitate things, taking into account the volume of your average cigar. They typically include:


Larger areas for the accumulation of cigar ash, often with deeper bowls and/or ample tray areas.

Integrated cigar rests, large enough to accommodate various cigar sizes, offering a safe and secure place to set your cigar.

A wide variety of cigar-themed designs, colors, and styles ideal for home, office, or lounge décor.

Cigar ashtrays make it easier to effectively dispose of cigar butts and ash, allowing you to keep your cigar space cleaner than it might otherwise be with regular ashtrays.



Choosing a cigar ashtray





There are a few things to consider when selecting a cigar ashtray to help optimize your cigar smoking enjoyment. Consider where you will be using the ashtray and with whom. If you are using it primarily outside, you might want to choose an ashtray crafted from a weather-resistant material. If you want a more formal look for interior spaces, glass or porcelain ashtrays offer an exquisite allure.

When your cigar adventures tend to include fellow cigar fans, a larger ashtray with additional cigar rests is probably in order. If you're hosting parties or other events, free-standing ashtrays are an obvious choice. Pocket-sized travel cigar ashtrays are also a quick and easy option that lets you safely dispose of ash while on the go. Once you narrow down where and when you will be using the ashtray, you will be able to make your selection from the type of ashtray which best fits your specific needs.






Types of Cigar Ashtrays





Cigar ashtrays come in an incredibly broad range of sizes, shapes, colors, and styles suited to just about any occasion. Here are a few of the most common types:






Single Cigar Ashtray






Ideal for enjoying cigars in solitary bliss, these ashtrays feature a single cigar rest and are generally more compact. They also make great options when space is limited. The adorini Ceramic Cigar Ashtray Leaf Black is a classic example of a single cigar ashtray.






Double Cigar Ashtray






These popular options feature two cigar rests so you can comfortably share your ashtray space with a fellow cigar lover. The Square Glass Ashtray for Two Cigars is an elegant, clear glass offering suitable for almost any cigar smoking environ.






Multiple Cigar Ashtray






Perfect for cigar parties and other friendly gatherings, these ashtrays feature three or more cigar rests and generally have larger bowls to accommodate more ash. The Square Glass Ashtray for four cigars is a popular choice.






Large Bowl Cigar Ashtray






Large bowl ashtrays, also referred to as deep bowl or tall ashtrays, are ideal when extra space to deposit ash is required. The deeper bowl design also means fewer trips to empty the ashtray, giving you more time to relax with your favorite smoke. The Stinky Cigar Ashtray Stainless is a crowd-pleasing large bowl option.






Standing Cigar Ashtray






Also known as free-standing or floor ashtrays, standing ashtrays are basically ashtrays on a pedestal. They can be placed almost anywhere and omit the need for a table or countertop. Standing ashtrays such as adorini's Standing Ashtray are great for home, business, or outdoor settings alike.






Portable Cigar Ashtray






Portable ashtrays make it easier for cigar enthusiasts to enjoy cigars safely and cleanly while on-the-go. These include pocket-sized treasures such as the best-selling Country Portable Ashtray Sliding Closure that lets you take the ash with you until you can find a proper place for disposal. Many portable ashtrays, such as Xikar's Ashtray Can in stainless steel, are designed to fit in most automobile cup holders providing a no-fuss deposit for your cigar's ash while keeping your eyes on the road.






Cigar Ashtray Gift Set






If you are searching for a great gift for your favorite cigar enthusiast or if you just prefer to have matching series, then cigar ashtray gift sets are a great way to go. These sets combine ashtrays with other cigar accessories, such as cutters, lighters, cigar cases, or other useful gadgets.






Enhance the moment with a cigar ashtray





Nobody wants to clean messy ash off the floor, furniture, countertop, or car interior. We certainly don't want to create a fire hazard either by dumping ash where it doesn't belong. So, savor the moment the right way and keep your cigar space sophisticated, safe, and clean with a well-chosen cigar ashtray.



All prices include already VAT. Free US shipping from $180. For order value under $180 additional
shipping costs
apply. Strikeout prices are suggested retail prices.