Hotline
1 (574)-607-4008
/
(800) 613-6219
|
Contact
FREE
U.S. Shipping (orders over $180)
100 DAY
Return Guaranteed
How do I set up the humidor?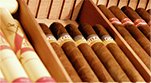 Start by
wiping the inner walls and shelves of the humidor with a clean damp cloth
. Spanish cedar wood absorbs moisture and acts as a moisture buffer, dampening the wood with a cloth helps to eliminate the risk that the dry wood of the inner panels will absorb the moisture out of your cigars. It is strongly recommended to
use distilled water
in all things related to the humidor so that no lime scale forms on the surface of the wood.
Next,
the humidifier should be filled with distilled water
or, alternatively, with a special humidifier liquid like that included with
adorini humidors
. Place the filled humidifier inside the humidor and close the lid.
Using distilled water as a
humidifying liquid
helps keep the humidifier germ-free and prevents the pores of the sponge from becoming clogged.
Special humidifier liquids
normally use this as a base but also contain odourless, anti-bacterial additives.
An
electronic humidification system
accelerates the initial humidification of the humidor, as it will continue to pump moisture into the humidor until the desired humidity level is reached. Conventional
humidification systems
may take several days before settling at the
required humidity level
. To speed up the initial humidification process, you can also put a glass or dish filled with distilled water inside the humidor until the desired humidity level has been reached and the inner wood panels have absorbed a sufficient amount of moisture. This is especially useful in the case of larger humidors.
After that, the
hygrometer should be calibrated
as necessary. The following video shows how to set up a humidor.
Does a humidor need special care? ›


‹ What accessories does a cigar smoker...