Hotline
1 (574)-607-4008
/
(800) 613-6219
|
Contact
FREE
U.S. Shipping (orders over $180)
100 DAY
Return Guaranteed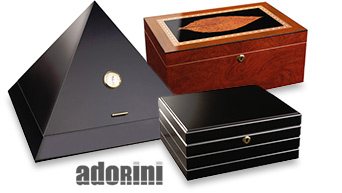 Adorini humidors set new standards in terms of humidor construction. The adorini Deluxe series ensures maximum performance by combining the most sophisticated components, top quality materials and innovative product design. All adorini models carry a lifetime warranty. The humidification systems found in adorini humidors are extremely reliable, and the high precision hygrometers allow for extra-fine control over the storage conditions in your cigar humidor.
All prices include already VAT. Free US shipping from $180. For order value under $180 additional
shipping costs
apply. Strikeout prices are suggested retail prices.