Hotline
+1-574-6074008
/
+1-800 6136219 (toll-free number)
/
+44 (0)845-8675 43 5
|
Contact



Gift ideas and recommendations for the cigar smoker
Are you looking for a gift, but aren't sure what product to buy ? The following recommendations will help you to choose the right product .
At HumidorDiscount, as a special gift service, you can purchase any humidor with a personalised brass plate engraved with a name or memorable message .
1) What makes a good gift for someone who's just started smoking cigars?
< $60
< $100
This is an entry-level quality humidor. It comes equipped with all the special features of the adorini deluxe humidor collection.
It comes equipped with an adorini hair hygrometer, an adorini deluxe humidifier and has their innovative RibTech inside a solid, robust corpus.
With adorini you can be sure that the humidor is lined with real Spanish cedar wood and not a cheaper mahogany or other cedar.
< $200
These are our bestsellers in standard size humidors.
Adorini Deluxe humidors offer excellent value and a number of innovative features.
The adorini Chianti is our bestselling tray humidor. The adorini Triest Deluxe in a rosewood finish is one of our most popular humidors.
Its classic look will appeal to most aficionados. Or you could just choose the design you like most from the full range of our bestselling humidors.
There is a wide variety of high-quality humidors available in a similar price range.
< $500
> $500
2) What makes a good gift for the long-time cigar smoker?
Most experienced smokers develop strong preferences for specific cigar brands and formats. Even if you know your friend's preferred cigar, you can never be sure that there is space enough in their humidor to properly store more cigars.
So a humidor or accessory may be a better gift option than a cigar. One of the natural dilemmas of every cigar smoker is that there is never seems to be enough space in the humidor. The more you get into cigar smoking the quicker your collection grows; as you accumulate a broader variety of cigars, of the preferred strengths and flavours, for different occasions and with varied smoking durations.
A serious aficionado will enjoy having properly stored cigars not only at home, but will also appreciate a humidor in the office or the summer house. Our recommendations are specially thought of to be useful to the cigar smoker who already has a humidor and the basic accessories.
< $50
< $100
< $200
Even among the most passionate smokers, the vast majority still use passive humidification systems.
The microprocessor-controlled humidifier is not just a gimmick but a huge improvement in the quality of cigar storage which saves the user a lot of time spent on maintenance.
A great and really useful gift for the smoker who already seems to have everything.
< $650
The dream humidor of any aficionado. One of the largest desktop models on the market, it includes the microprocessor-controlled adorini Cigar Heaven electronic humidification system.
They may have it all but they will not have anything comparable. They will be delighted to relegate their existing humidor to the summer house.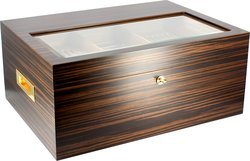 > $650
The ultimate gift. Choose a cabinet humidor for enjoying a wide selection of cigars in the office or at home.
Enough space for long-term ageing of their favourite cigars and to keep a wide variety of cigars on hand to offer to visitors and friends.
The Roma cigar humidor for 2000-6000 cigars is already equipped with an electronic humidification system and boasts interior lighting.
It is available in different colours to better match the decor. If the price tag exceeds your current budget, there are a number of more affordable but still very impressive cabinet humidors to choose from https://www.humidordiscount.com/humidor-cabinets/
If you should have any questions or would like further advice just get in touch with us.