Hotline
1 (574)-607-4008
/
(800) 613-6219
|
Contact
FREE
U.S. Shipping (orders over $180)
100 DAY
Return Guaranteed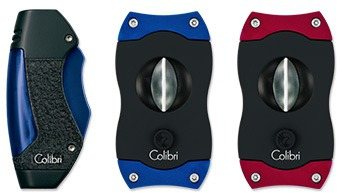 Today's cigar cutters are available in a myriad of designs ideal for any occasion. Don't worry if using a regular cigar guillotine cutter or punch cigar cutter is not your thing. One of the other cigar cutters out there is sure to be right for you.



Beyond mainstream guillotine cutters and punch cutters, you will find a host of other cigar cutting tools that range from classic old-world favorites to futuristic gadgets. There are cigar box tools with integrated cutters perfect for the serious cigar aficionado, precision multi-blade cutters that slice through cigars from multiple directions, and multi-tool gadgets perfect for hiking or out on the golf course.

There are, of course, V-cutters, also known as wedge or cat-eye cutters, for the shape of the incision made on the cigar. These cutters create a draw unlike any other, making for a wholly unique cigar smoking experience. Most V-cutters work by way of a lever that is pushed down to cut a wedge out of the end of the cigar which, in profile, looks like the letter v. While some people find traditional V-cutters to be bulky and tricky to use, they are preferred by many purists.

Great for the home, office, or lounge, there was a time when these cutters were not the best option for those planning to enjoy their cigars while on the move. However, V-cutters have evolved quite a bit over the years to give cigar lovers sleeker and more portable v-cutting options than ever before. Many of today's V-cutters, such as the best-selling Xikar VX V-Cut Cigar Cutter, offer a variation which combines a guillotine type mechanism resulting in a tool that is both more convenient and easier to use than classic V-cutter designs. The optimal cutting power of the guillotine-like sliding motion and wedge-shaped blade results in quick and clean V-cuts no matter where you go. Modern V-cutters often feature the added benefit of spring-loaded blades that safely lock into place when done.

For those who enjoy a V-cut occasionally but still prefer a straight cut, combination cutters are ideal. These cutters offer multiple blade configurations that allow you to choose either a straight guillotine or V-cutter. The precision-crafted Porsche Design 3-in-1 Cigar Cutter is a premier example.

Whether V-cutter, combination cutter or other uniquely configured cigar cutters, you will find a bevy of options with which to experiment. Find your preferred cut today!
All prices include already VAT. Free US shipping from $180. For order value under $180 additional
shipping costs
apply. Strikeout prices are suggested retail prices.