Hotline
1 (574)-607-4008
/
(800) 613-6219
|
Contact
FREE
U.S. Shipping (orders over $180)
100 DAY
Return Guaranteed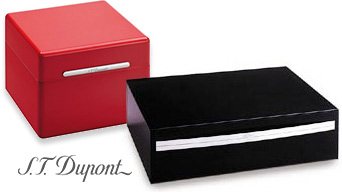 In the world of cigar lighters and accessories, the one name used synonymously with luxury, more than any other, is S.T. Dupont. The Dupont name guarantees the utmost quality and ensures the cigar experience is infused with unparalleled opulence and style. This is especially true of S.T. Dupont's line of exquisite cigar humidors.


The Rise of Dupont
The Dupont legacy begins in earnest with a man destined for greatness: Simon Tissot Dupont. S.T. Dupont, as he is better known today, emerged from his service as a court photographer to Napoleon III to create a company that built horse-drawn carriages for the Parisian elite. A fire destroyed his business in 1872, yet it allowed Dupont to focus on another of his endeavors, luxury leather goods.


By the start of the 20th century, Dupont's leather luggage, briefcases, satchels, wallets, purses, and other finely crafted leather products were the first choice amongst French society's upper echelon. The S.T. Dupont legend had truly begun.

Simon T. Dupont handed over the business in 1919 to his sons, André and Lucien, who would guide the company through its golden age. The sons took the extraordinary step of moving Dupont's workshops from Paris to the family's ancestral home of Faverges, nestled in an alpine valley near Lake Annecy south of Lake Geneva.

In 1929 the sons struck up a partnership with another legendary French firm, Cartier, which allowed Dupont products to be sold on the American market. This new-found global prominence, combined with the stock market crash of 1929, gave Dupont the opportunity to shift even further towards the highest levels of elite clientele. This eventually opened the door to a fateful special order that would forever change the face of S.T. Dupont.

The Maharajah of Patiala ordered 100 S.T. Dupont handbags with specially designed lacquered ornamentation. Yet the Maharajah also made a highly unique request of 100 matching cigarette lighters. Even though Dupont was not in the lighter-making business, the Dupont team rose to the challenge of creating what was considered the first ultra-luxury, petrol pocket lighter.


As the post-World War II years would see a downturn in Dupont's leather goods business, Dupont lighters grew in popularity to become the ultimate symbol of class and distinction. Shifting focus towards lighters and eventually other smoking accessories, S.T. Dupont became the benchmark for all luxury smoking goods, a title it retains to this very day.

S.T. Dupont Humidors
While S.T. Dupont is perhaps best known for lighters, including the iconic Ligne 2 and its unmistakable "cling", S.T. Dupont cigar humidors have also gained a reputation for luxury and quality. The humidors are highly sought after by discerning cigar connoisseurs around the globe and have set a benchmark that other humidor makers rarely achieve.


The Dupont team has maintained a commitment to creating the very best humidors by avoiding the temptation to offer a vast catalog of different styles. Rather the team has made a conscious effort to focus on but a few designs at any given time, ensuring each achieves the highest of standards in craftsmanship and functionality.

Renowned for their dazzling lacquer effects, S.T. Dupont humidors add a luxurious flair to any room or office. While the look and size of the core offerings might change over time, the exquisite construction and luxurious style is unending. Here are several of the all-time favorites from the most popular 75-cigar size range:

Sunburst

If there is a flagship S.T. Dupont humidor, it is the Sunburst series. These stunning cedarwood humidors feature the time-honored process of applying multiple layers of natural lacquer in varying shades to achieve a striking "sunburst" effect. These humidors are available in Golden Brown with yellow gold accents or in Blue with palladium accents to match S.T. Dupont's popular lighters of the same design.

Firehead

Inspired by the shape of a flame, the symbolic triangular designs of the Firehead series create a unique three-dimensional visual experience, unlike any other humidor. Each humidor is crafted of mahogany with a richly textured black lacquer design that pairs beautifully with S.T. Dupont's lighters, such as the black lacquered and palladium-topped S.T. Dupont Ligne 2 Pointe de Feu.

Croco Dandy

The Croco Dandy is another unique creation from Dupont's artisans that demonstrates their mastery of natural lacquer design. This eye-catching humidor features layers of lacquer that form a stylized brown and black crocodile hide finish. The endless appeal of the humidor's look is sure to make it the centerpiece of any room or office.

Ligne 2

Since the Ligne 2 is one of the most iconic lighters of all time, it is only natural there should be a Ligne 2 humidor. Each humidor in the Ligne 2 is a classic creation topped by the very best veneers, as well as accents reminiscent of those used on the Ligne 2 lighters.

No matter the exterior style of an S.T. Dupont humidor, each will provide an exquisite home for cigars. Dupont's artisans take pride in the precision detail that goes into making every humidor's interior perfectly suited for preserving cigars. Each S.T. Dupont humidor is lined with Spanish cedar and offers a plethora of other robust features.


Each of these additional features helps to make S.T. Dupont humidors a winning choice for the serious cigar aficionado:

Spanish cedar interior

Included crystal humidification system

Hygrometer

Divider(s)

Heavy-duty hinges


Dupont's humidifiers deliver reliable humidity control so that you can spend more time enjoying your day and less time worrying about the state of your prized cigar collection. Dupont includes a hygrometer with each humidor, either a classic analog or digital hygrometer. Check details for each humidor to find out which style is included. The timeless design of S.T. Dupont humidors also means it is easy to upgrade humidifiers and hygrometers.

A Legacy in Luxury
From quintessential aficionado favorites to fabulously opulent special editions, S.T. Dupont offers the most exquisite cigar humidors available today. Whether you favor more traditional design, or you want to make a splash with something a bit more provocative, you are sure to find your ideal in an S.T. Dupont humidor.
All prices include already VAT. Free US shipping from $180. For order value under $180 additional
shipping costs
apply. Strikeout prices are suggested retail prices.