Hotline
1 (574)-607-4008
/
(800) 613-6219
|
Contact
FREE
U.S. Shipping (orders over $180)
100 DAY
Return Guaranteed
Cohiba Humidors Montecristo, Habanos
Habanos SA is the driving force behind all of today's highly sought-after Cuban cigars. To complement the very best of the Cuban brands, Habanos SA offers humidors that focus on the iconic imagery, aesthetic appeal, and lasting legacy of the premium cigars. Of these legendary smokes, Cohiba and Montecristo reign supreme.

Cohiba
Cohiba has become the standard by which all premium cigars are judged. For cigar smokers and many non-smokers alike, the name Cohiba has come to suggest the ultimate in quality and status. Each Cohiba humidor is infused with this unmistakable character and history of the world's leading cigar brand.


The Rise of Cohiba
While Cohiba is the king of all Cuban cigars, the brand is a relative newcomer on the Cuban cigar scene. Many Cuban brands trace their origins far back into the 19th century, whereas Cohiba was born out of the chaotic years of the 1960s.

Legends abound about the origins of Cohiba cigars, yet the most popular story tells of how one of Cuban dictator Fidel Castro's bodyguards gave Castro a cigar from a local cigar maker. The mixture of tobaccos so enthralled Castro, he brought Cuba's best cigar masters together to produce the cigars as his personal blend.

To better ensure the quality of the cigars, Castro moved production to a mansion-turned-cigar factory in Havana, the now-legendary El Laguito factory. All of the best tobaccos in Cuba were sent to the factory, where a dream team of cigar rollers crafted Castro's exclusive smokes that would wear the Cohiba name. The word "Cohiba" is a word derived from the Taino language of Cuba's indigenous Arawak people to describe the bundle of leaves they inhaled through the nose that would evolve into what we now know as a modern cigar.

The first Cohiba cigars emerged in 1966 and quickly became Fidel Castro's calling card, presented to Cuban VIPS and foreign dignitaries. Word quickly spread of the impressive cigars, and the Cohiba brand was formally introduced in 1968. By the official international release of Cohiba cigars in 1982, Cohiba had already become the most renowned cigar brand in the world, a status that it still holds to this day.
Cohiba Humidors

With such a colorful past, it is only natural there should be humidors to match. You can celebrate this all-time great cigar brand with a humidor that sports the iconic Cohiba colors and design, with all the same exquisite detail that has made the legendary cigars so coveted by collectors around the world.


Each humidor features luxurious exteriors and elegantly refined interior spaces that provide cigars with the optimal resting place, keeping treasured smokes always consistently humidified and ready for your enjoyment. Check out HumidorDiscount's selection of Cohiba humidors to learn more about the perfect home for your favorite cigars.

Montecristo
While Cohiba is perhaps the most well-known brand, no discussion about Cuban cigars would be complete without Montecristo. A favorite of cigar connoisseurs since day one, the venerable Montecristo brand features a refined quality unrivaled in the world today. Each Montecristo humidor mirrors this exceptional character, which is deeply rooted in the brand's storied past.


The Tale of Montecristo
Montecristo cigars emerged in 1935 when Cuban entrepreneur Alonso Menéndez decided his recently acquired cigar business needed a new cigar line that would gain notoriety for its quality and character. With a new cigar in place, all that was needed was an attention-grabbing name.

Legend says that the 17th century tale The Count of Monte Cristo by Alexandre Dumas was a favorite of the factory's cigar rollers, who would listen to books, poetry and news articles read to them by the factory's official readers, known as lectors. Menéndez liked the name of the book and was inspired to shorten the name to simply Montecristo, believing it would still resonate with the public.

As Menéndez had predicted, Montecristo cigars were an instant hit and have ever since been regarded as one of the most respected brands in the world. Sophisticated, elegant, and infused with a touch of Dumas' swashbuckling hero, Montecristo is the ultimate connoisseur's cigar.

Montecristo Humidors
With an illustrious history backed by the continued adoration of connoisseurs everywhere, Montecristo is the ideal choice for those who value an understated approach rather than bold or flashy. Montecristo humidors offer high-quality construction and beautifully finished detail.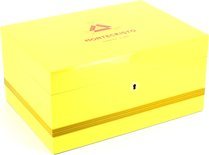 Montecristo humidors are dressed in exquisite color schemes that will often mimic the look of Montecristo cigar boxes. From the instantly recognizable yellow of the classic Montecristo humidor to tasteful multi-color combinations and natural wood finishes, Montecristo humidors will provide a stylish and highly sophisticated home for your cigars that is sure to be your pride and joy.

Other Habanos Humidors
Alongside the prestigious Cohiba and Montecristo brands, Habanos SA offerings include a wonderful variety of other world-class cigars and accessories. From fan favorites Romeo y Julieta and Trinidad to the storied H. Upmann, Partagas, Hoyo de Monterrey and more, Habanos SA humidors will demonstrate to all that you are a cigar aficionado of distinction.


Each of the expertly crafted humidors features beautiful exterior designs and interior spaces ideal for preserving your most treasured cigars. From high gloss lacquers to hand-polished hinges and Spanish cedar lining, these humidors deliver impeccable quality and style.

The Humidors of Habanos
With a collection of humidors that combine the nostalgia of Cuba's golden age of cigars with the precision and sophistication of modern designs and materials, Cohiba, Montecristo and the other Habanos-branded humidors offer the best way to celebrate your love of the world's finest cigars.
All prices include already VAT. Free US shipping from $180. For order value under $180 additional
shipping costs
apply. Strikeout prices are suggested retail prices.