Hotline
1 (574)-607-4008
/
(800) 613-6219
|
Contact
FREE
U.S. Shipping (orders over $180)
100 DAY
Return Guaranteed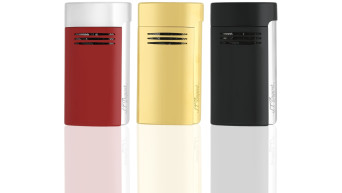 S.T. Dupont Megajet - The new art of lighting a cigar.
The luxury article manufacturer S.T. Dupont now offers cigar lovers a revised version of the well-known Maxijet lighter. Larger, higher and more powerful are the right attributes for this collection. The design of the Megajet series is classically elegant, timeless and based on the look of the Megajet lighters. What's the difference?
The dimensions alone are significantly different. A St. Dupont Megajet lighter has outer dimensions of 73 x 40 x 16 mm and thus has a remarkably larger gas tank volume that every experienced aficionado will be happy about.

With an amazing gas tank capacity of 1.7g that is enough for about 200 ignitions. The Megajet can be refilled up to 30 times with a gas bottle from the manufacturer. Now to the extraordinarily powerful jet flame which has now been carefully thought out by the manufacturer. An innovative and particularly wide jet flame ignites your smoke treasures from now on.
With a flame width of 2 cm, which tapers towards the top in a pyramid shape, the surface of the cigar base can be optimally fired. The intensity of the jet flame is adjustable on the bottom of the lighter.
It withstands wind speeds of up to 70 km / h, which corresponds to a 7 on the Beaufort scale. The three large air intakes integrated on the front and rear of the Megajet ensure that the cigar is ignited quickly and that the flame is permanently supplied with gas.

The air inlets are provided with solid protective grilles to protect the technology inside from dirt. Another protective measure, to be mentioned, by the manufacturer is the head-over safety system for maximum safety.
The lighter can never be ignited head-over in your pocket or in your hand. Technically, the flame is operated by an electronic piezo piston. The base material of the body is a zinc alloy, which makes the lighters light with 93g. The design is absolutely timeless, appealing and ergonomic.
An absolute flatterer thanks to the rounded edges and sides of the Megajet. After the first practical experiences with the collection, we are absolutely impressed and do not believe in crowding out or cannibalizing the Maxijet series, as these are aimed at different connoisseurs.

All prices include already VAT. Free US shipping from $180. For order value under $180 additional
shipping costs
apply. Strikeout prices are suggested retail prices.