Hotline
1 (574)-607-4008
/
(800) 613-6219
|
Contact
FREE
U.S. Shipping (orders over $180)
100 DAY
Return Guaranteed
Under the guidance of founder Keith Park, Prometheus has grown into one of the cigar industry's most trusted purveyors of fine humidors and accessories. With an emphasis on unique style and quality construction, each Prometheus product offers a mystique all its own that has made Prometheus a favorite of cigar enthusiasts around the world.

The Name
The mythic tale of Prometheus has endured as a story of persistence and aspiration. Early Greek traditions set forth by Hesiod and Aeschylus tell of the heroic Prometheus stealing fire from the mighty Zeus to give it to humanity. As fire gave birth to civilization, Prometheus would, in return, suffer the everlasting wrath of Zeus.

The Prometheus myth has found favor throughout the ages from the verse of Goethe and Shelley, music of Beethoven and the artistic renderings of Michelangelo, Titian, Reubens and others. Perhaps it is the sense of sacrifice for the good of humanity that serves as the inspiration. This uncompromising dedication that has sparked the imagination throughout history is certainly at the heart of each Prometheus-branded product.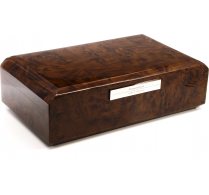 The Prometheus Story
Prometheus arrived on the scene in 1992 to challenge the old guard of manufacturers specializing in cigar lighters and accessories. Prometheus quickly rose in the ranks, becoming one of the most trusted sources for stylish, high-quality cigar accessories available today. Yet the story truly begins years earlier with a Korean lighter company, KGM.

Keith Park's family moved to the United States during the 1980s and continued to build the KGM name. By the early 1990s, Park was working for the family business and helped launch a new line of high-end lighters and accessories under the name of Prometheus. While the initial offerings were limited in size and variety, they caught enough interest from the cigar industry to guarantee Prometheus was here to stay.

Prometheus humidors were an instant hit, and once again, it seemed good old Prometheus was bestowing gifts upon the world. With this success right out of the gate, the Park family collectively decided to split Prometheus from KGM into a separate entity. After an agreement was reached that put him as the CEO of Prometheus, Keith Park guided the company ever-upward.

During this rise, Park struck up a long-standing partnership with Carlos Fuente, Jr. of Arturo Fuente fame, which would bring about a special edition line of humidors and cigars under the name God of Fire. This further added to the prestige of Prometheus, helping to make the brand into one of the most respected available today. Nowhere is the now-legendary Prometheus blend of form and function more apparent than the brand's line of exquisite humidors.


The Humidors
Prometheus humidors are perhaps best known for their beautiful lacquered finishes, luxurious components, and robust humidification control. Each of these attributes rival those of any other high-end humidor, and together they make for an attractive, yet highly efficient, option for any and all cigar lovers.


Every Prometheus humidor features pristine interiors of okoume, a wood with almost no aroma that might affect cigars, which also provides an extremely efficient moisture absorption rate. Humidity is controlled by the Prometheus Optima humidifier in all desktop models. This device makes humidifying cigars consistently super easy. Just a quick splash of distilled water and humidification solution, and the humidifier will do the rest.


Prometheus desktop humidors also include a Prometheus Hygro 3 digital hygrometer. This compact gadget measures humidity to within 3 percent, while the temperature is measured within a highly accurate 1 degree. Present also are the date and time with an alarm function, so you can keep track of when it is time to fill the humidifier. The Hygro 3 includes a memory feature so that you can check highs and lows of both humidity and temperature.


Every humidor also features extra-large, nickel-plated brass hinges for a superb opening and closing action. These elegant yet highly durable hinges provide strength and a splash of luxury to the interior of all Prometheus humidors from smaller travel options to the opulent Limited-Edition series.


While limited edition Prometheus humidors are highly sought-after, Prometheus offers several lines of exquisite, regular production humidors, each with their distinct look and qualities to suit almost any décor.

The Platinum Series
The flagship of the Prometheus line-up, these beautiful creations feature the rarest of exotic veneers applied by expert artisans in France. The 150 cigar capacity humidors are noted for their precision lines and striking colors and finishes. Macassar, Walnut Burl, Blue Sycamore, Yellow Sycamore and Carbon Fiber are legendary favorites.

The Milano Series
If the Platinum series is the flagship, then the Milano is the sentimental favorite. These crowd-pleasers feature a similar look to Platinum series humidors yet are smaller in size and with slightly more rounded edges. Two available options, a 50-count and 100-count capacity, feature a classic look that makes for an ideal choice for almost any home or office. Available in a variety of veneers, with Macassar and Walnut being favorite standouts.

The Octagon Series
For those wanting a departure from the classic humidor shape, Prometheus offers the alluring Octagon series. Beautifully sloping angles come together to form an eight-sided stunner that provides an instant upgrade to any décor. Connoisseur favorites have a capacity of 50 cigars and are available in Walnut, Rosewood, and the best-selling Macassar.

Travel Series
Prometheus knows it is not always about relaxing with a good cigar at home, so Keith Park and his team offer the exquisite Travel series for the aficionado on the go. With a capacity of up to 10 cigars, these humidors feature a round Prometheus Optima Travel humidifier.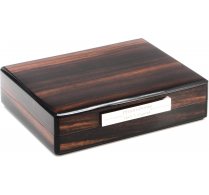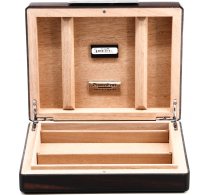 A unique feature offered here is wood dividers that can be turned on their side and placed over the top of cigars to hold them in place while on the move. A protective travel case is included with each humidor, so the wondrously glossy finish stays pristine no matter where you go.

Prometheus Unbound
Prometheus humidors offer distinctive styles, reliable humidification and overall luxury that should appeal to all levels of taste. There is no more gratifying moment than reaching into a Prometheus humidor and selecting a cigar to enjoy while pondering the legacy of Prometheus, the giver of fire.
All prices include already VAT. Free US shipping from $180. For order value under $180 additional
shipping costs
apply. Strikeout prices are suggested retail prices.