Hotline
1 (574)-607-4008
/
(800) 613-6219
|
Contact
FREE
U.S. Shipping (orders over $180)
100 DAY
Return Guaranteed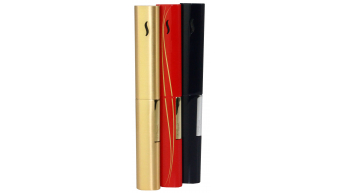 S.T. Dupont The WAND - The world's first luxury stick lighter
The well-known French manufacturer S.T. Dupont now offers you luxury for your home. Up until now, stick lighters have not been sought from this manufacturer. After a long development period, the result has now been brought onto the market.
Timeless and stylish hand flatteres are these objects of desire. The push button to trigger the powerful flame is optimally placed and offers you comfortable and safe lighting. Versatile - whether it is the candles at home to create a cozy atmosphere, romantic candlelight dinners or the lighting on your terrace or in your garden.
Equipped with an intense jet flame with a flame width of 1 cm, this lighter will not let you down, even in outdoor areas and wind speeds. Also recommended - as a supplement in star hotels and restaurants, there is no more elegant way to ignite the light at a guest's table! The intensity of the lighter can be regulated at the foot of the stick and of course it can be refilled.
A beautiful design object to give away or to make yourself happy.
All prices include already VAT. Free US shipping from $180. For order value under $180 additional
shipping costs
apply. Strikeout prices are suggested retail prices.