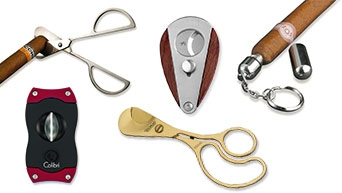 Premium cigars must be cut before lighting, but there are different types of cigar cutters. A basic rule of thumb is: the sharper the blade, the cleaner the cut; a sharp blade applies less pressure on the cigar and is less likely to cause damage.

Double Blade Cutters
- The most commonly used type of cigar cutter
- Two blades provide a cleaner cut and a better cut overall than a single-blade cutter
- The position of the cut can be varied according to personal preference
- Ideal for those aficionados who prefer to cut off the entire end and let the full diameter of the smoke reach the palate
The Punch
- Makes a small hole in the end of the cigar when you insert and twist the circular blade
- Small and handy, it fits in any pocket. Many models include a keychain.- Cigar punches often have two blades of different diameters to be used according to the size of the cigar.
- Creates a higher draw resistance - desirable or not, depending on personal preference
- Clean cut: less likely that bits of tobacco will get in your mouth
The Guillotine
- Only one blade
- A bit harder to use accurately than a double-blade cutter
- Must be equipped with a lock to keep the guillotine from opening by itself in transport
V-Cutters
- Out of fashion now, but were the standard tool used by our grandfathers
- Make an aesthetic, wedge cut
- Often a bit bulky for transport

See also What are advantages and disadvantages to the different ways of cutting a cigar?
Additional
shipping costs
apply. Strikeout prices are suggested retail prices.